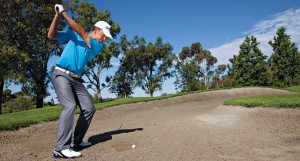 1. 40-YARD BUNKER SHOT
As you can see here, I've got a 40-yard bunker shot, which is arguably one of the game's hardest tests. I'll show you two ways to play it, depending on the kind of sand that you find in the bunker.
The first is when the sand is pretty firm. Take your most lofted wedge (in this case, I've chosen my 60° lob wedge) and pick it clean, taking sand only after you hit the ball. To help pick it clean, I've moved the ball about an inch back in my stance and am placing a little more weight on my left side. This helps create a downward blow and ensures that the club bottoms out a little bit earlier than usual so I'm sure to catch the ball first. I stand tall at address and remain so through the shot. Click for more»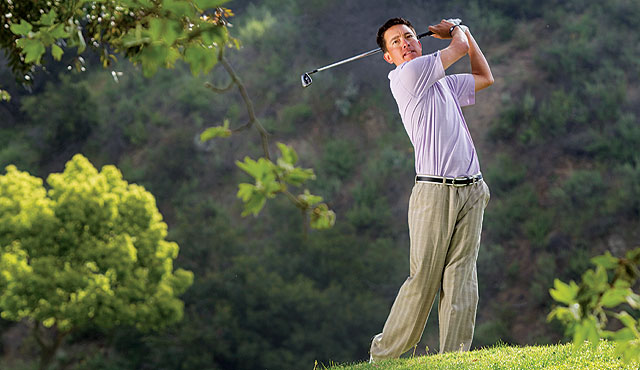 If you're a low-handicapper, here's how to fix your most common faults
By Zach Allen, PGA, Photos By David Johnston
Good golfers often struggle with very different problems than average golfers. They often hit the ball too far with their short irons and overdraw or block shots to the right because they get stuck on their downswings. Sometimes their hands are too overactive through release. It's kind of ironic that the very things that make golfers more powerful players also give them consistency problems. If this sounds like you, and you want to fix your game, read on. Click for more»
Learn From The Best
By The Editors at GolfTips Magazine, With Zach Allen, PGA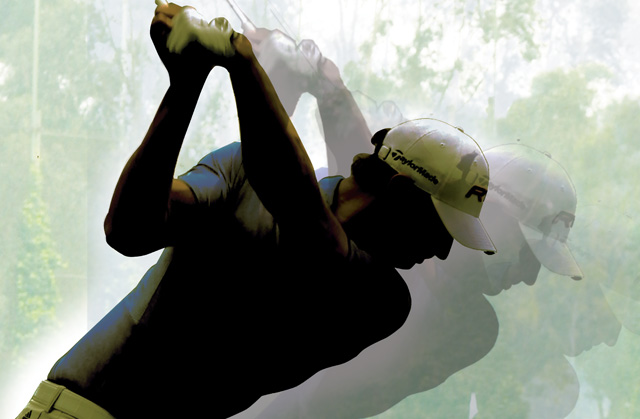 Want to play like a PGA Tour player? You have to practice. Every photo in this story was taken while these players were working hard on the practice tee. Click for more»
Just because the golf season is near a close, there's still plenty of work to do if you want to keep your swing fresh and up to par for the next golf season. That doesn't necessarily mean you have to grind out in the cold all winter (Arizona and Palm Springs are great places to be in January, by the way), but with a handful of quick tips and drills that I show here, staying in top form this off-season ought to be a lot easier and more fun. And for those of you blessed with the time and resources to play golf all year long, let these next few pages serve as a blueprint for playing your best golf now, and into the next playing season.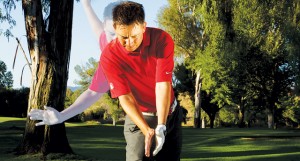 CLAP YOUR HANDS
One of my favorite drills for perfecting the impact position is to do what I call the "clap your hands" drill. What this drill does is help you get a sense of what it means to stack your left side at impact and make solid contact into the golf ball. Click for more»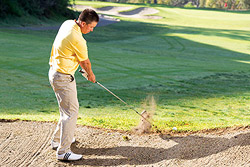 Feet In Bunker, Ball Out
The key to this shot is to choke down on the golf club far enough—all the way to the shaft—if necessary.
When you set up to this golf shot, imagine you're making the same rounded golf swing you would if you were playing tee ball. This shot is on the same swing-plane angle.
Before you actually hit the ball, make sure you take plenty of extra practice golf swings to not only find the proper swing plane, but also locate the point where your golf club bottoms out. Don't hit the sand! Click for more»
Admit it. Chipping isn't exactly exciting. Some might say it's downright boring. It certainly isn't as thrilling as busting a drive 300 yards down the middle. But as a golf instructor in Burbank, I have found that if you want to shoot the lights out (or save par), the only way to do it is to get the ball close to the hole, and it's chipping that'll do that. Click for more»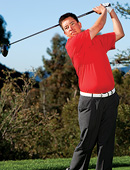 Who says you can't hit it far and straight?

On the PGA Tour, they call it "Total Driving." That's the stat that ranks players according to how far and straight they drive the ball. Currently, Bo Van Pelt is the Tour's best all-around driver, but there are a number of top-ranked players on his heels, including Zach Johnson, K.J. Choi and this year's Northern Trust Champ, Steve Stricker (see the sidebar at the end of this story for more on Stricker's excellent driving). Each man loves to hit his second shot with a short club from the short grass. Then again, who doesn't? Click for more»