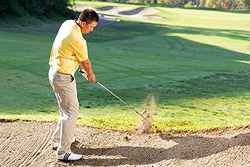 Feet In Bunker, Ball Out
The key to this shot is to choke down on the golf club far enough—all the way to the shaft—if necessary.
When you set up to this golf shot, imagine you're making the same rounded golf swing you would if you were playing tee ball. This shot is on the same swing-plane angle.
Before you actually hit the ball, make sure you take plenty of extra practice golf swings to not only find the proper swing plane, but also locate the point where your golf club bottoms out. Don't hit the sand! [Read more…]