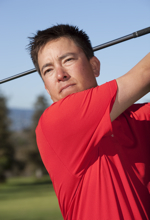 Zach teaches aspiring golfers of all levels and ages. His students include nationally-ranked juniors, touring pros, celebrities, and CEOs. But Zach's goal is always the same: equipping students with a basic understanding of their golf swings — so they become their own, best teachers.
Zach Allen is a PGA-certified golf instructor. He's been voted the Southern California PGA's Teacher of the Year and named a Top 25 Golf Instructor and Best Young Teacher in America.
Learn more about Zach — or listen to his students…
Books, Articles & Tips

Learn Like A Pro, Play Like A Pro! Apply lasting improvements to your golf game By Rick Sessinghous, PGA & Zach Allen, PGA, Photos By Ryan Noll No matter how advanced the best players in the world become, each and every player does something, somehow, someway to make himself or herself better. No two players […]

What's that thing sticking out of the back of my glove? Turn the page to find out how a tee in your glove can help you around the greens. We all make mistakes. It doesn't matter if you're a Tour player or it's your first time touching a club, we're human beings, and we're all […]

Zach's treatise on golf's dreaded mishit — the shank. This revolutionary golf primer incorporates numerous multimedia features, including: (1) video explanations and drills; (2) interactive photo galleries and diagrams; and (3) self-diagnostics.

Never fear bunkers, heavy greenside rough, or the apron again! Zach explains how to hit 40-yard bunker shots, hybrid chips, Texas wedges, flop shots, rolling pitch shots, and the putt chip.

Good golfers struggle with different problems than average golfers. They often hit balls too far with short irons or block shots right because they get stuck on their downswings. Ironically, what make golfers more powerful also give them consistency problems.

Want to play like a PGA Tour player? How does Dustin Johnson crush the golf ball? What's Hunter Mahan's secret to hitting nearly 70 percent of the greens every time he plays? Why is Luke Donald so smooth and fluid? Read on!

Just because the golf season is near a close, there's still plenty of work to do if you want to keep your swing fresh and up to par for the next golf season. That doesn't necessarily mean you have to grind out in the cold all winter (Arizona and Palm Springs are great places to […]

Zach tackles bad lies — feet in bunkers, uphill and downhill lies, balls above and below the feet, flyers, deep rough, pine straw, tight lies, fairway collars… and every other nasty condition you might encounter on the course.